What is a Bead Soup Blog Party?
First, you must have a blog!
Second, no, you do NOT have to make your own beads!
Third, YES it is open to International beaders!
SO! During the sign up dates, you'll email me to let me know you want to go to the Bead Soup Party. (Become a Follower to keep up with when the next Party is -- we have about three a year!
c) Your shop address, if you have one
d) Your mailing address
When the sign ups close, I'll contact everyone with their Party Partner and list all the Party Blogs. You'll then send that person a Party Pack:
:: A focal ::
:: Some coordinating spacers or beads ::
:: A special clasp (not just a lobster claw) ::

EXAMPLES
As you will see, some will send a smaller amount, some will send a larger amount, but you do NOT have to send an entire necklace or bracelet kit. The idea is you will use the focal and the clasp, and if you wish, some of the coordinating beads, incorporating beads from your own stash. The idea is to help you think outside the box and work outside your normal comfort zone, pushing you into creative directions you may never have gone.
You ONLY have to use the focal and the clasp.
photo by Carol Bradley






my first soup



When you get your package of beads, show your beads on your blog, then you make something with it, take a picture, and post it on your blog on the Party day. Then everyone hops around to as many Party Blogs as possible to see what people made on Party Day!
Grab a button for your blog!
Just paste the entire button code into a Gadget in Blogger (email me if you need help), or you can just cut and paste the button and link it to http://lorianderson.blogspot.com/p/bead-soup-blog-party.html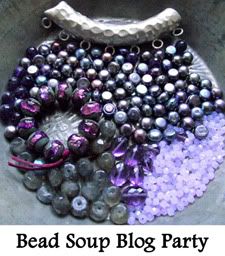 Feel free to tell your friends!
An easy way to keep up with Blog Party happenings?