I thought long and hard last night about the
ad situation
. I had always said I'd never have ads on my blog because it wasn't THAT kind of blog. My goal was to extend one of my favorite types of posts, Etsy Finds, and help promote the independent artist.
So I came up with a new idea that will not only benefit handmade, but drive traffic to everyone's blogs and shops. Get ready for....
Are you excited yet?
Here's how it will work.
1) Decide what you want to give away -- yarn, beads, finished jewelry, back issues of magazines, mixed media, a print, craft supplies of any sort, knitted goodies -- anything crafty. Your photo, description, and links will be hosted on MY blog (so this isn't a blog hop, but a 70-person, 7-day show).


2) You send me a good quality photo, jpeg format (you can send two, I can stitch them together). Also, send a description and the retail price if you were to sell it (but remember -- you're giving it away).


3) You provide me with all the links you want, but your shop address should be first! (HOWEVER! You do not have to have a shop to participate. This is also a way to drive traffic to your blog.)


4) In addition to a one-off giveaway, you could (but don't have to) offer a discount in your store. Reasoning for this? Only one person can win your prize, but dozens can buy with a discount. Even if you don't have a store, load your blog with items to sell in a post.



(Sorry -- this show is sold out --
visit it Nov 26th to Dec 3rd
right here at
Pretty Things
!)
5)
Cost?
$5-$1, depending upon how long you're on the web-o-sphere.
$5 = seven days
$4 = six days
$3 = five days
$2 = four days
$1 = three days
$1 = two days
$1 = one day
(Total run of the craft show is seven days, and will not be deleted, so your shop links will stay on my blog).
(Cost covers cost of any ads I place, press releases,
marketing to magazines, etc. Not pie.)

What do you get for $5-$1?
Well, I have a large readership, and many of you do, too. People will have to blog about the post, and Facebook and Twittering will be happening. I have a huge database of my own customers I'll be emailing, and I'll put out a press release internet-wide. I'll also notify beading e-mags and blogs. I'm feel I'm pretty good at marketing, and have done it for a living in the corporate world.
6)
YOU are responsible for shipping
, so you decide if you want to ship overseas. You just need to tell me. I'll have a disclaimer at the bottom of the craft show page that states some items cannot be shipped that way, but no one crafter will be singled out.

On the days of the Virtual Craft Show, my blog that week will be dedicated JUST to the show. Each page will be filled with designers and crafters and people will be able to click the links to your stores, your blogs, and take advantage of your discounts (should you offer any), shop for things they HAVE TO HAVE NOW, and comment on things they really, really want. They're not guaranteed that's what they'll get if they are drawn, but it doesn't hurt to say what you like! I'll be Facebooking throughout the day so each person gets exposure.


Slots have already been filled, so if you want in,
email me
with what number of days you want (I'll do the best I can) and what you want to promote.
Spaces ARE limited to ten a day, for a total of 70 artisans.
(Have to say it, but I do reserve the right to refuse any ad. No cat food, please. Or weight loss products. No, wait... ah, no. No.)
You can grab the long header if you'd like to blog about it or use it the days of the Craft Show, or grab the blog button, and in Blogger's Widgets, choose "Add Photo" and
link to this page
until the day of the show -- and then you can change the link to the page you're on. Don't worry, I'll help you out!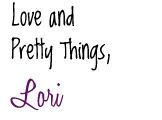 Lori Anderson creates jewelry for her web site, Lori Anderson Designs, and wrote the blog An Artist's Year Off. She's also a contributor to Art Bead Scene and is the creator of the Bead Soup Blog Party.